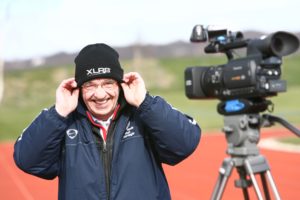 Squad Yearly Rest Period 2nd September until Tuesday 3rd. October. See You All then Fit and Ready.
TRAINING EVERY TUESDAY AND THURSDAY BETWEN 7.00 AND 9.00 PM.
City of York Athlete Richard Buck Athletic Achievements.
Richard retired from International competition on the 8th August 2015 at the Anniversary Games in Guernsey. He won his 400m.event in a time of 46.66 secs.
During his career Richard had 10 outings when he ran 45 seconds Plus. The fastest being 45.61secs, which he ran in Geneva in 2012.
Domestic Championships Record
2003 – AAA U17 Championships 400m gold
2005 – ESAA Championships 400m gold. AAA U20 Championships 400m silver
2006 – AAA U23 Championships 400m gold
2007 – England Athletics U23 Championships 400m silver. Norwich Union World Champs Trials
2008 – Norwich Union World Indoor Champs Trials 400m gold
2009 – Aviva UK Indoor Championships 400m gold. BUCS 400m gold
2010 – Aviva World Indoor Trials & UK Championships 400m gold. Aviva European Trials & UK Championships 400m 8th
2011 – Aviva European Indoor Trials & UK Championships 400m silver
2012 – Aviva Olympic Trials & UK Championships 400m 5th. Aviva European Indoor Trials & UK Championships 400m bronze
2013 – Sainsbury's British Championships 400m 8th. CAU Inter-Counties Championships 400m gold.
Major Championships Record
2004 – World Junior Championships 4x400m 5th
2005 – European Junior Championships 4x400m gold
2007 – IAAF World Championships 4x400m 6th. World University Games 400m 6th. European U23 Championships 400m 5th
2009 – European Indoor Championships 400m 5th, 4x400m silver
2010 – IAAF World Indoor Championships 400m 5th sf, 4x400m bronze
2010 – European Team Championships 4x400m silver
2011 – 3rd European Indoor Championships 400m bronze, 4x400m relay silver
2012 – IAAF World Indoor Championships 400m 3rd sf, 4x400m silver. Aviva Indoor International GBR v GER v RUS v Commonwealth v USA 400m 4th
2013 – European Indoor Athletics Championships 4x400m gold.
Domestic Championships 10 Medals Won.
6 Gold; 3 Silver; 1 Bronze.
At World and European Championships he won a total of 8 medals.
2 Gold; 4 Silver; 2 Bronze.
Useful Website:  www.wada-ama.org